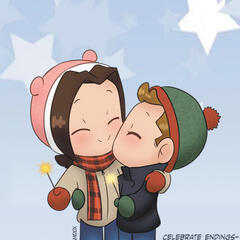 Hello, I'm Kamidiox!
Fanartist with a wicked sense of humor!
Commissions are always open! No matter the fandom, I'll do something cute for you!
Samples
Check some of my works!
COMMISSIONS INFO
Yes, I have PayPal !At $10.00 USD (Money only, sorry) the first character and $5.00 every additional char. That means, if you want a chibi Dean Winchester, it will be 10 usd. If you want Dean and Sam, then it will be 15 usd, and goes on and on (Or Saitama and Genos, or My Little Ponny, or whatever you want).Also, complicated backgrounds are $5.00For comics, the price is 5 usd per character per time is on the comic. That means, if you want a comic about Sam and Dean when they both appear in every frame and is 4 frames long, the price is 2 character x 4 times every character will appear x 5 usd: $40 usd.How this works:1. Send me an email at [email protected] with the subject "Commission". I won't take any commissions that are not in my email.2. In the email please explain what you want in the most explicit way. Remember English is not my native language so please be clear! (I reserve the right to refuse any commission that I feel uncomfortable to do)3. I'll send you an email back with how I work, any doubt that I may have and the price. If you agree, I'll send you the paypal link so you can make your payment.4. After I receive the payment, you'll receive a preview of your commission that can take from 1 to 7 days. You will only have ONE chance to make changes, so use it wisely!5. Once you are agree with the preview, you'll receive your commission via Email, in high quality .jpg format in two - three weeks.Big NO-NO:1. NO REFUNDS. So be careful with what you want.2. All the works will be delivered in digital format. Nothing will be printed. I won't send anything by mail or delivery service.3. You can use the art in any way you want, but DON'T MAKE MONEY WITH IT . If you want art for commercial use (as banners or to sell in a convention) let's talk about it.4. No changes after you accepted the preview.Frequently Asked Questions:Q: You only accept cash via Paypal?
A: Yes, but don't worry, opening an account is easy and free. You can delete the account later.Q: Only chibis? Why?
A: Right now is the only thing I can offer, as soon as I can manage something else, I'll let you know.Q: You only accept to do fanart?
A: No, you can ask for an OC, or a portrait. No limits here.Q: If nobody buys, you'll stop doing your comics or fanart?
A: Nonononono! I'll keep updating my da and tumblr frequently! Nothing to worry about!Q: I can't buy, but I want to help you. What can I do?
A: Promote me! Tell your family and friends about my page, you'll never know and maybe I'll find my dream job;) (Wink)Any question that is not listed here? Don't be shy and send me an email!.